Wilna's Story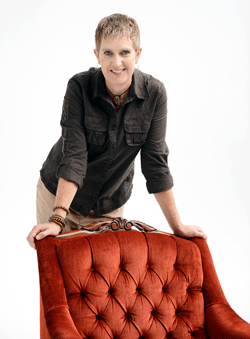 Wilna van Beek was born and raised in South Africa. For as long as she can remember, she knew she was different. Wilna always wished she had been born a boy, and at the age of 21 she caved in to her same-sex attractions and entered into her first homosexual relationship. She had no support or no one to talk to. Struggling under the weight of leading a double-life, Wilna's fear, shame, and guilt kept her silent. But deep down she hoped that someday, somehow... her story would be brought into the light.
Wilna received a Bible as a gift from her Mom when she was 8 years old. She knew the truth, that to live a homosexual lifestyle is not God's will. She tried very hard to change herself and to generate attraction to the opposite sex, but her efforts were in vain. The moment she entered into living and practicing a homosexual lifestyle, she felt separated from the presence of God. This created a dryness in her soul and it eventually brought her to a place of total surrender in 2003. She invited Jesus into that place in her heart, the place she'd closed off for so long. She repented of living a homosexual lifestyle and asked the Lord to please help her with this deep struggle. She brought it under the Lordship of Christ, walked away from living a homosexual lifestyle and chose celibacy. Gradually, after seeking out more help and healing, going for prayer ministry and seeking the Lord, things started to change. Wilna kept Jesus her focus, and like the words of the song: "Turn your eyes upon Jesus, look full in His wonderful face, and the things of earth will grow strangely dim!" - this became true in her life. As Jesus became her focus, she no longer catered to her flesh. Today her same-sex attractions have diminished and no longer exist. She has been celebrating more than 15 years of celibacy and humbly gives God the glory for this victory.
She chose to feed her spirit the Word of God and seek after Him daily. These were the keys to help her overcome. Even though people told her she was going to hell, it was the Holy Spirit who convinced her that she needed God's presence in her life, and that only He can satisfy all her needs.
"No man, no psychiatrists, self-help books, or my own efforts to "fix" myself could do for me what the Holy Spirit has done!" says Wilna. "You and I will have zero power to overcome and live a life of victory unless we abide in Jesus, daily!"
The Change
"Change" for Wilna did not mean that she was "fixed" or "cured," or instantly changed from being a homosexual into a heterosexual. Through fully and wholeheartedly surrendering to Christ, Wilna has chosen to practice and embrace chastity - as, in fact - this is what Christ requires from all of us! Remaining single is an act of worship to the Lord, and Wilna delights herself in exercising this freedom. Even though Wilna's same-sex attractions are no longer existing - the truth is, this is not the reality for many people who are on a similar journey. Her passion is the help people learn and understand others who continue to journey with any gender dysphoria or any sexual identity issues.
God has placed a passion and call on Wilna's life. She is passionate to help persons with similar journeys - to encourage them to focus on Jesus, to gaze upon Him at all times, instead of focusing on their sexuality. She loves to come alongside parents/family members who journey with loved ones who have come out as lesbian, gay, bisexual, transgender or queer/questioning. She encourages parents to focus on Jesus and not on their loved one's unwanted and unchosen same-sex attractions.
"Our world is full of people who have been hurt by those who are supposed to love them," says Wilna, "and I believe it is time we educate ourselves with regards to the topic of homosexuality."
To begin with, we need to learn how to love and accept all, including members of the LGBTQ community. God requires us to love, to build bridges and not walls. We can agree do disagree in respectful ways while upholding Biblical truths at all times. Wilna believes all are worthy of God's love, and WE have to be true ambassadors of Christ! We must represent God's Kingdom well, so others might want to grow into a deeper relationship with Jesus Christ.
Wilna leads a ministry called God Gazers - Bridge Builders: http://www.godgazers.com/.
Wilna has been sharing her amazing story of redemption and transformation with large audiences since 2009. She has been equipping hundreds of pastors and leaders on the topic of homosexuality. Wilna is involved with outreaches that minister to children in the inner city, and is an active member of her church family, Saskatchewan House of Prayer. Wilna serves on the board for an evangelical group of pastors in her city. She graduated from the School of Women in Ministry in 2012.
Her book When Gay Comes Home - Learning to Build Bridges was published in November 2017 and is an unprecedented tool for such a time as this. Click on the image below to buy online. For more purchase options, click on http://www.godgazers.com/wgch-book.php.
When Gay Comes Home: Learning to Build Bridges
By Wilna van Beek

Wilna van Beek beautifully weaves together two profound stories into a tapestry of faith, hope, and love.

The first story is her story. It is told with compelling courage and refreshing transparency and desperately needs to be heard today. Wilna's honest vulnerability projects us beyond the predictable and tired cultural norms of individualism, self-identification, and sensual pleasure and allows us to see that there is another, higher way to live: the way of humility and repentance, which leads to transformation and genuine life!

The second story is the well-worn but often misunderstood story of Jesus and how Jesus loves and cares for people... all people. It is Jesus who enables the transformation we all so desperately require.