Be The Church
By Mike Goeke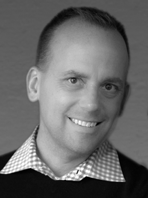 I was sharing with the elder body of a large, growing church about my vision for the church to become the place of healing and restoration for those struggling with unwanted same-sex attractions when one of the elders expressed a sentiment I have since heard many times. "We don't know what to do to help those people," he said. "If they start coming, we won't have anything to offer them."
I knew that this concern was not unique and that it was not possible for every church to have a specialized ministry for those impacted by homosexuality. I began really to think through how I could help equip any church to minister effectively to the sexually broken.
As I thought and strategized, I kept coming back to the answer that always seemed too simple, but one that has been confirmed over and over in my mind, heart and in the testimonies I hear: The church need not have special programs and ministries to help people with unique problems. The church must simply be the church.
The changes in my life regarding unwanted same-sex attractions did not take place in a ministry focused on those struggling with such feelings. I did not go through "reparative therapy," or any other kind of specialized therapy. Primarily, I walked out of an old identity and into a new identity in the local church.
The first church my wife and I got involved in as we began the process of our personal and marital restoration was not a place where I felt comfortable sharing my struggle. But it was a church that offered me three important components of sexual healing and restoration: It taught Truth at all levels, it offered some level of community and it encouraged us to serve.
God worked amazingly in my life during that time -- through the Word, through community, and through service. We eventually became part of a new church start, and that church became the place for the next stage in my healing process. While the first church laid a good foundation, this church became the place where I would grow exponentially. This church also offered Truth, but it was more than just Truth; it was uncompromised Truth applied to the reality of life.
It was this atmosphere of reality that fostered the freedom -- for the first time in my life -- to share my struggle with my pastor and, ultimately, the entire church body. It offered real community -- community that was about being real, sharing the hard parts of life and walking the Christian walk together. And it was a place truly to serve, where much was expected and the rewards were great.
I've come to realize that for those of us who struggle with unwanted same-sex attractions, the answer is to become a disciple of Jesus, with all of the wonderful challenges and joys that journey entails. This is what every church, large and small, traditional and contemporary, has the opportunity to offer -- to all sinners, all strugglers, and all broken people.
So I say to the church, "Just be the church." Welcome all people, love all people, teach the truth, be real, equip people to serve -- make disciples. Change for people like me may or may not include changes in feelings, but it always include a change in how we act on those feelings, in what we seek in life, in what we follow, in what we make sacrifices for, in what we pursue, and in what brings us true and lasting joy.
We can be a disciple of many things, including our feelings. People who are dealing with life-dominating, identity-stealing struggles simply need you to be the church. Walk with them -- and help them up when they fall -- as they become a disciple of Jesus, and all else will fall into place.
Mike Goeke is the Associate Pastor of Counseling at Stonegate Fellowship Church in Midland, Texas.